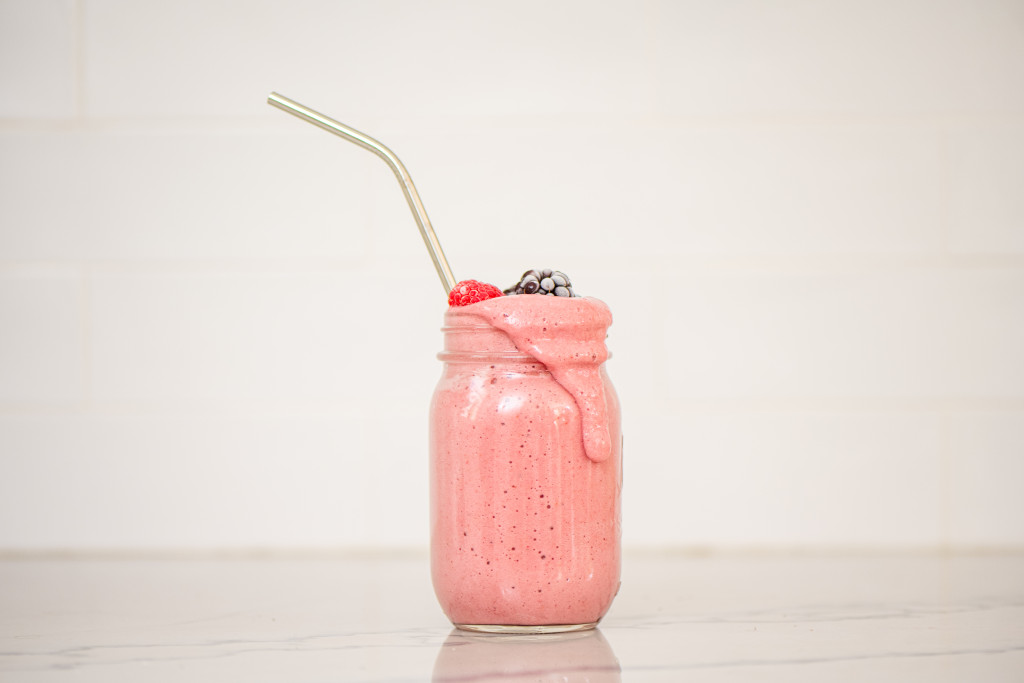 Blood Sugar Balance
8 Key Ways to Balance Your Blood Sugar
I've been helping patients/clients improve blood sugar balance for 10 years and after seeing firsthand the transformational impact that blood sugar balance can have on health outcomes, I advocate for blood sugar control every single day. As does my entire team of Functional Medicine Dietitians at Being Functional Nutrition. Here's why…
Why is Blood Sugar Balance Important?
Poor metabolic health and blood sugar imbalances are two of the largest drivers of chronic disease. Blood Sugar balance (or rather imbalance) has been linked to several conditions including pre-diabetes, PCOS, infertility, heart disease and Alzheimer's Disease, to name a few. Beyond increasing risk of disease, large blood sugar spikes throughout the day can lead to adverse symptoms within 1-2 hours after consuming the meal.
When you experience a glucose spike, you're more likely to have…
Brain fog
Cravings
Fatigue
GI Symptoms
Hunger
Inflammation 
These symptoms and chronic diseases associated with blood sugar imbalances slowly build after years of unknowingly experiencing blood sugar spikes throughout the day. One study in non-diabetics showed that eating cereal led to blood sugar spikes in the pre-diabetes range (>140 mg/dL) for 80% of people without diabetes. Oftentimes, we see people spiking 2-3 times per day after their meals. You don't have to be drinking a 2 liter of soda to experience blood sugar elevations. For some people foods like oatmeal, brown rice and beans, or a salad with croutons and raisins can lead to glucose spikes. 
It is a very important measure of health but yet most people only get their fasting blood sugar level and HgA1c (3 month blood sugar average) checked when they go in for their annual physical. However, that's really not enough if you want to be proactive about your health and better understand your body. What's worse, your average glucose levels could be in the "normal" range at the doctor's office and you can still experience blood sugar spikes and dips throughout the day that lead to worsened health and energy. This is why it's so important for you to be your own health advocate and prioritize balancing your blood sugar on a daily basis!
8 Hacks to Balance your Blood Sugar
Remember that everyone has different nutrition needs. but generally speaking, there are several tips that you can adopt to your own unique needs. Here are eight of my science-backed hacks to balance your blood sugar levels that I shared on instagram:
1-Eat Whole Food
Foods that have been highly processed are more likely to spike blood sugar compared to their whole food counterparts. That's because processing of foods leads to more breakdown and faster glucose absorption in your bloodstream. Choose more whole foods that typically have more natural fibers intact that help to slow down the absorption.
2-Avoid Grazing and Frequent Snacking
Having a consistent meal schedule and eating enough with each meal can help to decrease grazing and frequent snacking. Why is this important? One study compared two groups: one that ate 3 meals per day and another that ate 14 times per day. The group who ate less frequent meals had lower levels of blood glucose throughout the day and demonstrated glycemic improvements. They also had a more efficient metabolism (higher Resting Metabolic Rate (RMR)) and better appetite control. Aim for eating 2-3 balanced meals and 0-1 snack per day. What this does is helps your glucose recover after your meal and maintain a steady level for a few hours before you eat again.
3-Load Up on Fiber
Aim for at least 40+ grams of fiber through whole foods sources. Focus on soluble fiber found in nuts, seeds, non-starchy vegetables, low glycemic fruit like berries and legumes. If this creates digestive issues, then you'll need to start with fixing your gut health.
4-Get Enough Protein
Getting enough protein from both high quality animal and plant sources is key! Protein is the most satiating macronutrient and is also critical for building muscle. The more lean body mass and muscle mass that you have, the more efficient you will be at moving glucose out of the bloodstream to promote very balanced blood sugar levels.
5-Follow the Optimal Plate Method
The Optimal Plate Method™ strategy involves filling half of your plate with non-starchy veggies, incorporating protein, healthy fats and the option of starchy carbohydrates. For those with high insulin levels, consider limiting the complex or starchy carbohydrates to no more than 1-2 servings per day.
6-Avoid Eating Carbs Alone
Start improving glucose by ensuring you aren't eating carbohydrates alone, especially high glycemic/refined carbohydrates and added sugars that drive blood sugar increases and insulin resistance. Balancing your blood sugar levels does not need to mean cutting out all carbohydrates, especially for women who are still menstruating. You want to figure out the appropriate amount of carbohydrates that make you feel good and then make sure you pair them with protein, healthy fats, and non-starchy vegetables.
7-Stop Eating 3 Hours Before Bed
Shorten your window of eating overnight to help improve your sleep quality, overnight glucose and insulin levels and ability to tap into fat burning mode. When you restrict the time that you eat food, also known as Time Restricted Eating (TRE), you give your body a break from needing to process glucose which also decreases the release of insulin. This can lead to more stable overnight glucose levels and higher ketone levels the next morning which helps you tap into your fat stores for energy. If you are practicing a 12 hour fast, you may choose to eat all of your meals from 8am to 8pm and fast overnight.
8-Add 1-2 Tbsp Apple Cider Vinegar with a High Glycemic Meal
Incorporate 1-2 Tbsp of apple cider vinegar in 6-8 fl oz of filtered water 1-2 times per day. The acetic acid in apple cider vinegar and all vinegars helps to increase the muscle's uptake of glucose which helps lower post-meal glucose levels if you drink it before eating a high glycemic meal. When you eat a meal with starches, the acid slows down the digestion & keeps blood sugar more stable. A 2013 study showed that adding vinegar to meals (1 tbsp at mealtime twice a day) resulted in a lower post-meal blood sugar levels. The reductions from the apple cider vinegar were greater than the effect of metformin. Click here for my 3 Ways to Add Apple Cider Vinegar to your diet.
The Easiest Way to Implement These Hacks
Putting together meals that meet all of the above criteria and making it work with a busy schedule can be extra challenging. That's why we created the Blood Sugar Reset Bundle which you can buy here! This amazing program includes 30 days of simple, anti-inflammatory and low glycemic meal plans with recipes, grocery shopping lists and meal prep instructions. In the last two years, we have had more than 15,000 people join us in the Blood Sugar Reset! Here what some of our participants have said about their experience: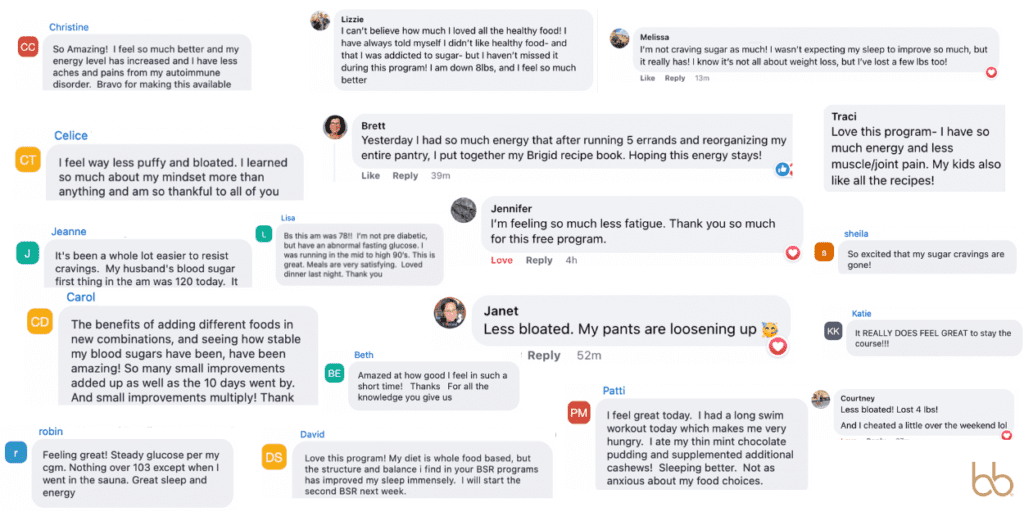 Get More Personalized Insight
No one has the same blood sugar response to any meal. It's highly personalized. If you want more personalized blood sugar insight and guidance, you can order a Continuous Glucose Monitor through Levels Health. This is a great way to see how your body responds to your food, stress, sleep, movement and more so that you can optimize your habits to promote blood sugar balance!